info@mnguitaracademy.com
(763) 432-9713
3533 88th Ave NE, Blaine, MN 55014
Named to "Best Places for Guitar Lessons in Minnesota" by CBS News
Named to "Best Music Shops in Minnesota" by CBS News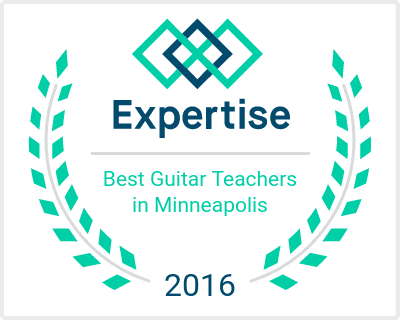 Are we the right music school for you?
If you're looking for music lessons for kids, you've come to the right place. Because at Minnesota Guitar Academy, we specialize in one thing—music lessons for kids! Located in Blaine, we are the area's leading music school and offer guitar, piano, and voice lessons to kids and teens. And since 2013, we've empowered hundreds of students to be their best. So, whether your child is a complete beginner, or a seasoned player, we have a program that is right for them.
To get your child started, call us at (763) 432-9713 or
We are currently enrolling for Fall and have limited availability Monday through Saturday.
Register today. Begin next week!
While you're here researching the best music school for you, please consider the benefits of becoming a Minnesota Guitar Academy student.
---
10 Benefits of Becoming a MNGA Student:
---
  1) Named to "Best Places for Guitar Lessons in Minnesota" list by CBS News
With so many music lesson providers in the Twin Cities area, how do you know who to trust? Well, how about starting with the only place in Minnesota that was named to two different "Best of Minnesota" lists by CBS News. Our commitment to high-quality music lessons and excellent customer service has earned us a reputation few others in the area can match. If you are looking for music lessons for your child, we would be honored to earn your business. Give us a call today at (763) 432-9713 to learn more.
---
2) Inspire and empower.
At Minnesota Guitar Academy, we partner with families to inspire and empower youth through music education. In our programs, students learn self worth; to set and achieve goals; to face and overcome challenges; and to become self-guided learners. Put simply, our teachers help students discover their musical and personal potential.
To learn how one of our programs could benefit your child, call us at (763) 432-9713.
---
3) Highly qualified teachers receive ongoing training
Our instructors are some of the friendliest, most well educated, and sought after in the Twin Cities. Our Director only selects applicants with college degrees, who have extensive teaching résumés, and who love working with kids. What's more, our teachers our employees, not contractors. That means your child's teacher receives ongoing training to ensure they are continually enhancing their teaching skills.
---
4) Safe, professional environment
When choosing a music lesson provider, there are many important aspects to consider. Are the lessons offered in a safe, professional environment? Is the staff friendly and knowledgeable? Are the facilities clean and well maintained? Well, at Minnesota Guitar Academy, the answers are yes, yes, and yes! From the moment our customers walk in the door, they often remark about how courteous and professional our staff is. Enroll at MNGA, and you'll immediately see why we have received both local, and national acclaim.
---
5) Convenient location
When we ask parents why they chose MNGA, the first thing they usually say is "the quality of education." The second thing they often say, is "location." At MNGA, our families don't have to bother with messy downtown commutes or spend time looking for open parking meters. Instead, we offer a spacious parking lot directly in front of our facility so you can save time and money. Located just 1 block off I-35W on the border of Blaine and Circle Pines, we offer lessons in a safe, convenient, and family-friendly location. In fact, CNBC recently named Circle Pines as the "3rd Most Perfect Suburb in America." What better place to have your child learn music?
---
 6) Spend time with your child
Would you like to spend more time with your child? If the answer is "yes," you'll be happy to know we encourage parents to attend lessons with their child. Extensive research indicates students learn best when their parents are engaged in the learning process. What better way to spend time with your child than to attend their weekly music lesson?
---
7) Free, annual recitals at Hamline University
Every parent just wants to know how their child is doing and if they are really progressing. The best way for a parent to understand if their investment in lessons is  worth it is to have their child participate in a recital. And what better place to watch your child perform than at Sundin Hall–a premier Twin Cities venue?  University students spend thousands of dollars for the opportunity to perform in a professional concert hall and we offer this experience to our students for free!
We also offer a variety of other performance opportunities throughout the year for students seeking additional experience.
---
8) S.T.E.M. Program: Audio Technology
At Minnesota Guitar Academy, we recognize the increasing role technology plays in modern music making. For that reason, we'll soon be launching the area's only recording arts program for kids. Open to elementary, middle-, and high-school students, our S.T.E.M. program will give students the kind of hands-on experience they'll need to become professional musicians or audio engineers. Call us today to inquire about our inaugural cohort beginning Fall 2016.
---
9) Trophies, wristbands, and certificates to celebrate student achievement
We are the only school in Blaine that gives students the opportunity to earn trophies, colored wristbands, and certificates for passing musical tests. Students become inspired as they earn wristbands and climb the "Musical Ladder™."
---
10) No long-term contracts
While many of our competitors require families to sign costly, long-term contracts in order to stabilize
business revenue, we have a different approach. We offer the best music instruction at a fair price so our
students not only remain satisfied, they can't wait to come to their next lesson. No contracts necessary!
---
Lessons start at $119/mo
It's easy to take the next step:
3533 88th Ave NE
Blaine, MN 55014
(Located near Lake Drive and 35W across from Kwik Trip)
 See what ABC Newspapers says about The Childbloom Guitar Program at Minnesota Guitar Academy.
We are pleased to have been named to the "Best Music Shops in Minnesota" list by CBS News.
Minnesota Guitar Academy named "Ab Fab" by Jason and Alexis of MyTalk 107.1 FM.
MNGA is a proud member of Metro North Chamber of Commerce.
We currently serve the communities of Anoka, Andover, Arden Hills, Blaine, Brooklyn Park, Centerville, Circle Pines, Coon Rapids, East Bethel, Fridley, Ham Lake, Hugo, Lexington, Lino Lakes, Mounds View, New Brighton, North Oaks, Oak Grove, Plymouth, Shoreview, Spring Lake Park, and St. Francis.
---
Meet the Director
---
Eric Nehring is a guitarist, vocalist, and educator from the Minneapolis area. Over the past 15 years, he has taught 1000+ students across the Twin Cities how to play the guitar.
Performing Life
Mr. Nehring has enjoyed a prolific performing career that includes several local and national media appearances, performances for United States presidential candidates, and several events for members of the United States Armed Forces. In addition, he has performed at venues throughout the Twin Cities including Chanhassen Dinner Theatres, Northrop Auditorium, the National Sports Center, and Orchestra Hall. He has also played the side stages at several music festivals including Moondance Jammin' Country, Moondance Jam, and Winstock.
Academic Life
Mr. Nehring graduated from Centennial High School (1998), earned an Associate of Arts degree from Anoka-Ramsey Community College (2001), a Bachelor of Arts degree from the University of St. Thomas (2007), and a Master of Music degree from the University of Minnesota (2012). In addition, he completed nearly two years of post-graduate research at the U of M within the field of music education. His primary research foci were curriculum development and playing-related musculoskeletal disorders of performing musicians.
During his decade-long academic tenure, Mr. Nehring studied with some of Minnesota's finest guitar educators including Jeffrey Van, Dr. James Flegel, Dr. Christopher Kachian, Anthony Titus, Joan Griffith, Michael Hauser, Steve Morgan, Kelly Peterson, and Maja Radovanlija. Further, he studied piano with Dr. Rudolfus Budginas and Anna Chepikova, and voice with Judy Bender, Andrew Barrett, and Joseph Reed.
In May 2013, eager to bring high level music instruction back to his hometown, Mr. Nehring resigned from his teaching position at the University of Minnesota and founded Minnesota Guitar Academy. In August of that year, he attended intensive child development training in Austin, TX under the tutelage of Childbloom President, Kevin Taylor. To date, Mr. Nehring remains the only licensed Director of The Childbloom Guitar Program™ in the Twin Cities.
When not teaching or performing, Mr. Nehring enjoys spending time with his wife, Erin, and their three children Caleb, Ava, and Lydia.
---
---
---
---
---
---
---
---
---
---
---
---
---
---
---
---